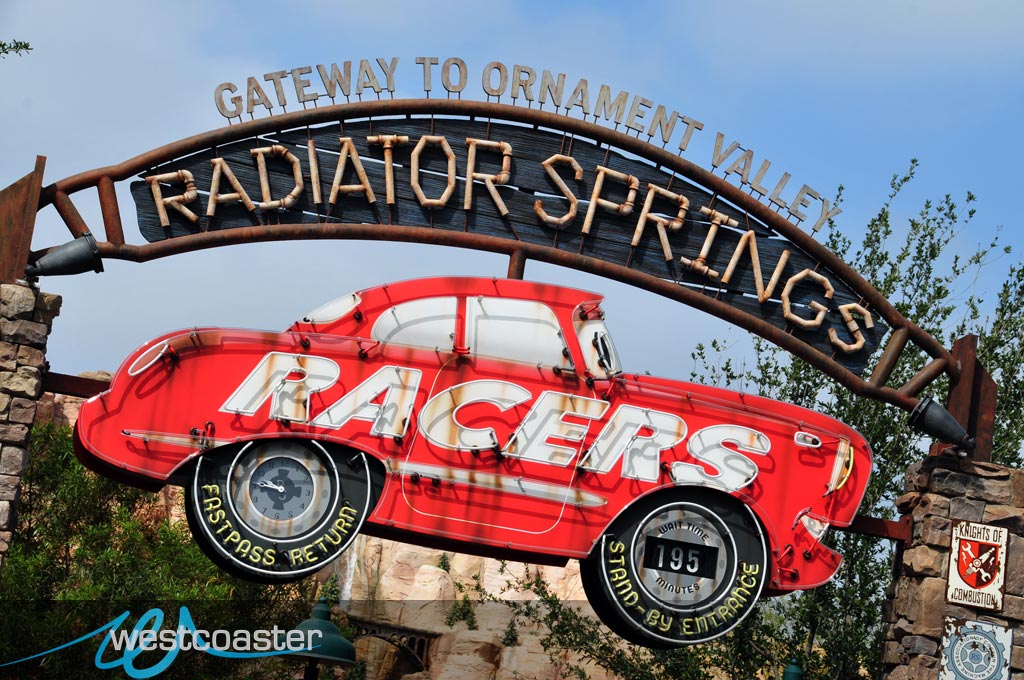 In May we travelled to Disneyland Resort in California for the first time. Whilst there we managed to get on Radiator Springs Racers, located in Cars Land within Disney's California Adventure Park. Here's what we made of it.
Located at the very end of Radiator Springs, and in the setting of the Cadillac Range Mountains is the Radiator Springs Racers. Note that the fast pass pickup is located before the entrance to Cars Land. If you're not looking for it, it's easy to miss.
On the Disney Parks website, the ride is described as a loud thrill ride, with small drops, and is suitable for riders over 40″ (102cm) or taller. Each car seats 6.
The Ride
On the way you'll bump into several familiar faces; Lightning McQueen, Mater, Sally, Doc Hudson and more. You'll go tractor tipping with Mater and then fine tune your car in either Ramone's House of Body Art, where you'll get a new paint job or visit Luigi's Casa Della Tires for some new wheels.
To see both, you may have to ride multiple times. We got lucky, rode twice and managed to see both.
Once your car is ready you'll roll towards the race start line, where you will pull up alongside another car. You'll then race through Ornament Valley, with some small hills and big bends along the way – finally crossing the finishing line, hopefully before your competitor.
Honestly? This is the best ride I've ever been on at a Disney park. Not only is the actual ride really enjoyable, but the theming and animatronics are amazing. See the below video from Inside the Magic's Youtube channel which shows just how great it is.
In ride animatronics *Warning – spoilers*.
You should probably pickup a fast pass for this ride, as the queue can get rather long. I've just checked the wait time (14:22pm) and it's currently 105 minutes.
I'd never queue this long for an attraction but if there's one in the parks that is worth it, it's this one.
Have you rode Radiator Springs Racers? What did you think? Which rides are better? Leave a comment below.